Photo source
The Canterbury Tales  by Geoffrey Chaucer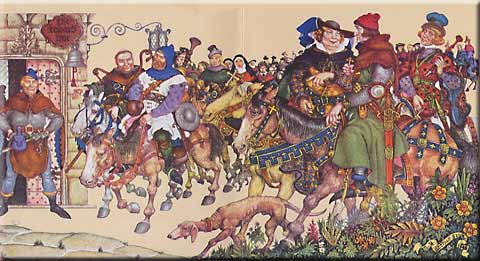 Photo source
Read The Canterbury Tales on Laura Gibbs' website.
 Read The Canterbury Tales on Wikipedia  or here.
The Canterbury Tales is one of the best loved works in the history of English literature. Written in Middle English, the story follows a group of pilgrims who are travelling the long journey from London to Canterbury Cathedral. Setting off from a London inn, the innkeeper suggests that during the journey each pilgrim should tell two tales to help pass the time. The best storyteller, he says, will be rewarded with a free supper on his return.
Chaucer introduces us to a vivid cast of characters, including a carpenter, a cook, a knight, a monk, a prioress, a haberdasher, a dyer, a clerk, a merchant and a very bawdy miller. These characters come from all corners of 14th century society, and give Chaucer the chance to speak in many different voices. Some of the characters' tales are humorous, rude and naughty, while others are moral and reflective. (Source)
The transcript of the Tales in Chaucer's language is here (scroll down).

Photo source
Other tales:
Tales of the Grotesque and Arabesque by Edgar Allan Poe